For part of last year I participated in the General Conference Odyssey, but had to stop because of time constraints and other priorities. The project is ongoing and in 2017 I will be attempting to contribute again as time permits.
My previous contributions can be found here. Posts by other bloggers writing about the April 1975 General Conference today are linked at the end of this post.  You can also visit the project group on Facebook.
Today we are writing about the Friday Morning Session of the April 1975 Conference.
---
In 1975, Elder Marion D. Hanks was an Assistant to the Quorum of the Twelve Apostles. He had previously served in England as mission president. Serving under his direction in England were young Elders Jeffrey R. Holland and Quentin L. Cook, both of whom are now Apostles.
In April 1975, Elder Hanks gave a wonderful sermon on trusting the Lord through affliction. He taught that "Faith is confidence and trust in the character and purposes of God."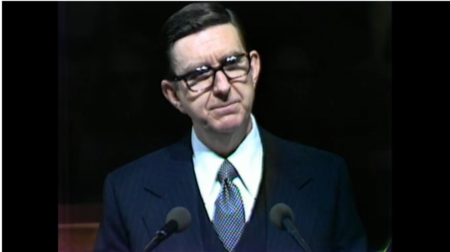 He recognizes that there is a "siren song of invitation to 'curse God and die'—die spiritually, die as to things pertaining to righteousness, die to hope and holiness and faith…" But Elder Hanks emphasizes that he is not just speaking abstractly. He points to the inspiring examples of goodness, courage, and kindness in our own communities and neighborhoods that go unsung and unreported by a media the focuses on the sensational. But the unsung heroes he cites are not those who escaped suffering through faith, but those who "have met difficulties with courage…who had little but ingenuity and will and courage and faith" even as they continue to suffer. Continue reading →