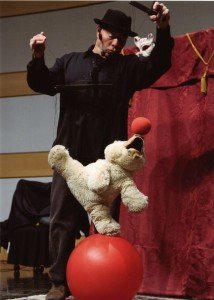 Looking for something new and different to do for a date or a family outing? Come to the Puppet Variety Show I'll be MC-ing this Saturday at the SCERA Center for the Arts in Orem.
The Great Puppet Follies – Puppet Variety Show
Saturday, April 10, 2010
4:00 pm – 5:30 pm
$5 adults, $3 Children (ages 3 – 11)
SCERA Center for the Arts
745 South State Street, Orem, UT  84058
Tickets can be purchased at the SCERA ticket office or online at http://www.scera.org
The show will feature all kinds of different puppet acts, including a skit by my own puppet-comedy troupe, Maxed Out Puppetry, a hilarious presentation by professional ventriloquist Kerry Summers, and an awesome one-man musical marionette finale by "The String Man" Freddie Spencer.
Freddie Spencer, the headlining performer, has worked in Hollywood for decades and designed and performed puppets for well known productions like the original Land of the Lost television series, as well as the movies Beetlejuice, Bram Stoker's Dracula, and Team America, World Police.
There is nothing like live entertainment, and this will be a fantastic, fun show.  Hope to see you there!