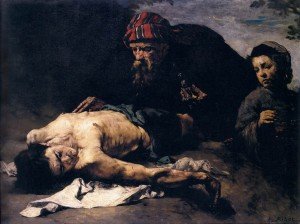 When Jesus enjoined his followers to love their enemies, he didn't simply mean that they should stop demonizing those who they wrongly perceived as enemies because they were different; He wasn't suggesting that conflict is the consequence of misunderstanding, and that if we would just try to understand those who we perceive as enemies we would discover that they are not enemies after all. He actually requires us to love those who really are our enemies; those whose ideas, desires, and actions truly are incompatible and in conflict with our own.
"Ye have heard that it hath been said, Thou shalt love thy neighbour, and hate thine enemy. But I say unto you, Love your enemies, bless them that curse you, do good to them that hate you, and pray for them which despitefully use you, and persecute you; That ye may be the children of your Father which is in heaven: for he maketh his sun to rise on the evil and on the good, and sendeth rain on the just and on the unjust." (Matthew 5:43-45)
We must see the worth of the souls of those who are not just different or weak, but who really are wicked and depraved. We must recognize those who mock that which is sacred as God's own beloved children. We must sincerely pray and ask God to be merciful to those who truly do hate us and who try to destroy us.
We do not stop considering their actions wicked or their words blasphemous. We do not capitulate in the face of their persecution of us. But despite their wickedness, their blasphemy, and their persecution toward us, we are required to love them and to hope that one day they will cease to be our enemies.
We must boldly stand for that which is right. But the desire of Christians is to persuade our enemies, not punish them; to convert our enemies, not crush them; to save our enemies, not subdue them.