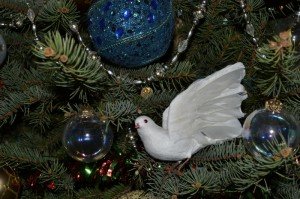 First, a little background: We don't do Santa at our house. We all make or get presents for each other. All of our children are almost as excited about the gifts they are giving as they are about what they might get. I've been teasing the kids all week by telling them that if I couldn't find anything cool to give them I would just give them all coloring books. Not that coloring books would be a bad gift. But they have received a number of coloring books for birthdays and such and I know that it really isn't something they want.
It's Christmas Eve.
With some of our extended family we've shared a meal, had a nice time singing Christmas Carols around the piano, and re-enacted the story of Christ's birth while reading the account from the New Testament.
Throughout the evening our youngest son, who will turn five years old in February, has not wanted to participate.
As I try to get him ready for bed, we have the following conversation:
Me: "Son, you need to go to bed now so you can wake up early tomorrow to open your presents."
Son: "I'm not tired yet."
Me: "But don't you want to go to sleep so you can wake up early for Christmas and get your coloring book?"
Son: "I don't want a coloring book for Christmas."
Then he pauses, looks up into my face with a compassionate smile, and says with absolute sincerity:
"It's okay, dad. I love you even if you only get me a coloring book."
Then he throws his arms around me and hugs me close.
Choking up, I hug him back.
Me: "I love you too!"
Best Christmas present ever. Eat your heart out Santa!
I did get him something better than a coloring book. But he doesn't know that yet.
"At the same time came the disciples unto Jesus, saying, Who is the greatest in the kingdom of heaven?"

"And Jesus called a little child unto him, and set him in the midst of them, and said, Verily I say unto you, Except ye be converted, and become as little children, ye shall not enter into the kingdom of heaven."

"Whosoever therefore shall humble himself as this little child, the same is greatest in the kingdom of heaven. And whoso shall receive one such little child in my name receiveth me."

"But whoso shall offend one of these little ones which believe in me, it were better for him that a millstone were hanged about his neck, and that he were drowned in the depth of the sea."
The Creator of all literally became a little child. And they laid him in a manger because their was no room at the inn. And he did it because he loves us.
Merry Christmas to everyone!