Though you may not hear much about it in national media, there is a remarkable colloquium going on this week at the Vatican, hosted by Pope Francis. The purpose of the summit is to join religious leaders from many different churches and traditions in defense of complimentary man-woman marriage.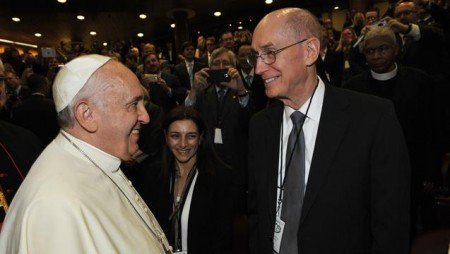 Members of the Church of Jesus Christ of Latter-day Saints will be thrilled to know that this morning President Henry B. Eyring, of the First Presidency of the Church, addressed the Pope and the other religious leaders of the colloquium and read significant portions of The Family: A Proclamation to the World.
Elder Eyring also shared thoughts on the importance of the complementary aspects of men and women in marriage, and the importance of charity and unselfishness in cultivating that complementarity:
"We must find ways to lead people to a faith that they can replace their natural self-interest with deep and lasting feelings of charity and benevolence. With that change, and only then, will people be able to make the hourly unselfish sacrifices necessary for a happy marriage and family life—and to do it with a smile.
The change that is needed is in people's hearts more than in their minds. The most persuasive logic will not be enough unless it helps soften hearts.
[…]
We can and must stand up and defend the institution of marriage between a man and a woman.
[…]
 As we work to build and encourage faithful, loving marriages in which men and women become as one and nurture their families, the Lord will multiply our efforts. As we join together in this work, I promise progress toward that happy result. In the name of Jesus Christ, whom I serve and whose witness I am, amen.
Read the full transcript of President Eyring's remarks here.
UPDATE: Video of President Eyring's remarks: