In this week's installment of our ongoing series retrospectively writing about sermons given in past LDS General Conferences are looking at talks from the Saturday Morning Session of the April 1971 General Conference. Posts about this conference session by other participating bloggers will be included at the end of this post.
---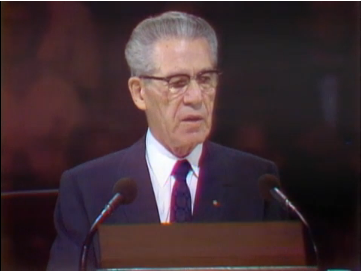 N. Eldon Tanner was called to be a counselor in the First Presidency of the Church by President David O. McKay in October of 1963, only one year after having been called as an apostle. He continued as a counselor in the First Presidency under Presidents Joseph Fielding Smith,  Harold B. Lee, and Spencer W. Kimball. He was also the nephew of LDS Apostle Hugh B. Brown.
President Tanner's starts out his talk from this session, titled "Choose You This Day," referring to a series of lectures, apparently hosted by Carnegie Mellon, called the "Last Lecture Series."  University professors were asked to prepare a lecture as if it were to be their last lecture before they died, in which to communicate the most important information they had gleaned from their careers and experience. It sounds a bit like a predecessor to the modern T.E.D. talks that have been so popular in the internet era.
President Tanner decided to give his talk in the spirit of this "Last Lecture Series":
"I chose my subject for this conference as though it were to be my last lecture—the most important message I could leave with the people."
And the message he chose to share was upon the need to choose today to serve God.
I'm not going to delve into all the details of his message, but please feel free to click through and read it for yourself.  Instead I want to highlight a couple of quotes that President Tanner used in his message.
First, through the decades, prophets and apostles– particularly President Hinckley and President Monson, but also President Benson in his famous sermon on pride— have quoted these words by Rudyard Kipling:
The tumult and the shouting dies,
The captains and the kings depart;
Still stands thine ancient sacrifice,
An humble and a contrite heart,
Lord God of Hosts, be with us yet,
Lest we forget, lest we forget!
But President Tanner quotes Kipling's poem more extensively:
God of our fathers known of old,
Lord of our far-flung battle-line,
Beneath whose awful hand we hold
Dominion over palm and pine,
Lord God of Hosts, be with us yet,
Lest we forget, lest we forget!
The tumult and the shouting dies,
The captains and the kings depart;
Still stands thine ancient sacrifice,
An humble and a contrite heart,
Lord God of Hosts, be with us yet,
Lest we forget, lest we forget!
Far called, our navies melt away,
On dune and head-land sinks the fire;
Lo, all our pomp of yesterday
Is one with Nineveh and Tyre!
Judge of the nations, spare us yet,
Lest we forget, lest we forget!
He explains that "Rudyard Kipling's prophetic poem 'God of Our Fathers, Known of Old,' was a warning to the great and powerful British Empire, when it was at the height of its glory, and should be a warning to all nations."
Kipling composed "God of Our Fathers, Known of Old" under the title "Recessional" in 1897 for the celebration of Queen Victoria's 60 year reign over the British Empire, known as the Diamond Jubilee. Even though it would not reach the full extent of its power until after World War I, at the time Britain controlled significant portions of the world.
He had originally composed his famous, or infamous, poem "The White Man's Burden" for the Jubilee, but interestingly Kipling withheld it and produced "Recessional," which he meant as a prayer, instead. Considering his originally planned contribution, and the occasion, "Recessional" is a remarkable contrarian statement of warning.
There are two additional verses that were not quoted by President Tanner:
If, drunk with sight of power, we loose
Wild tongues that have not Thee in awe—
Such boastings as the Gentiles use,
Or lesser breeds without the Law—
Lord God of Hosts, be with us yet,
Lest we forget—lest we forget!
For heathen heart that puts her trust
In reeking tube and iron shard—
All valiant dust that builds on dust,
And guarding calls not Thee to guard.
For frantic boast and foolish word,
Thy Mercy on Thy People, Lord!
Amen.
President Tanner was born in 1898, just a year after the Jubilee. Though he was born in Salt Lake City, he was raised and spent most of his life in Alberta Canada, which was a self-governing dominion of the British Empire. He would have been 24 years old when the empire reached its zenith and influenced approximately 1/5 of the world population. At the time he gave this sermon in 1971, during his adult life President Tanner had watched the empire dwindle from the largest in the history of the world.
With that background, he declared "We are reminded of the destruction of Sodom and Gomorrah, Sodom being the chief town in its settlement in the center of the Garden of Jehovah; of Tyre and Sidon, with Tyre a flourishing city of great wealth and beauty, and perhaps the largest city which the Savior is known to have visited; and of Jerusalem, and other great cities and civilizations which have fallen because they turned away from God and became a wicked and adulterous people. And I fear that this is happening rapidly in our own land."
There is a tendency for some modern readers to look back at these kinds of apocalyptic ideas in the general conferences of the 1970s and 1980s with amusement, annoyance, or disdain. But for President Tanner, Rudyard Kipling's warning was not just theoretical or poetic– it was real and he had seen it happen. The fall of nations didn't necessarily have to be through nuclear holocaust; it could simply be through ongoing conflict and decline.
"We have made great strides of advancement in scientific fields, " he observed. "We have sent men to the moon and back, developed a nuclear bomb, and made great progress in the methods of war, but what have we done in the interest of peace? What have we done in the field of human relations? What progress have we made in spirituality?"
Later in his talk President Tanner makes an important comment related to the materialism connected to empire:
"I wonder about our undue concern for material possessions, for shrines and monuments, which crumble and decay. […] As we pay homage to the revered memories of persons and places, let us at the same time be diligently engaged in our spiritual duties and the preservation of treasures which cannot be effaced by time."
The first three verses of Kipling's poem, as quoted by President Tanner, are included in the official LDS Hymnal under the title "God of Our Fathers, Known of Old," though I don't recall ever hearing it sung in church meetings.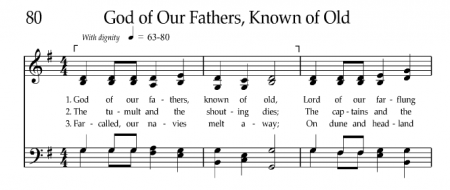 Before reading this talk by President Tanner, when I had heard President Hinckley or President Monson quote only the second verse, I understood the meaning of their words but I never really understood the greater context. I suspect that as I return to their talks, their citations will take on additional meaning now.
While it is somewhat disconnected from the thoughts above, there is another quote that I want to briefly highlight. It is a wonderful statement from Elder Richard L. Evans, which President Tanner quotes toward the conclusion of his talk:
"Our Father in heaven is not an umpire who is trying to count us out. He is not a competitor who is trying to outsmart us. He is not a prosecutor who is trying to convict us. He is a loving Father who wants our happiness and eternal progress, and who will help us all he can if we will but give him in our lives an opportunity to do so."
I think that this a very helpful clarification about God's relationship to us. Often people fall into the notion that God is trying to suppress, oppress, or depress us; that he is an umpire watching for our failures so that he can declare us "out." But his commandments are guidance from an loving father who wants us to succeed, if we will listen.
---
Other bloggers posting retrospectively today about the Sunday Morning Session of the April 1971 General Conference of the Church of Jesus Christ of Latter-day Saints: