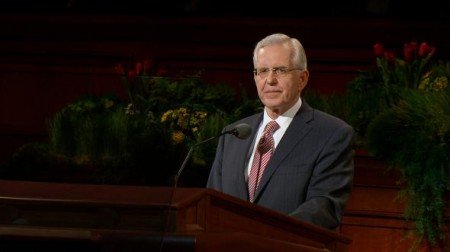 Even though the partial transcript I made of an interview with LDS Apostle D. Todd Christofferson is a few months old, in the aftermath of the U.S. Supreme Court's ruling on same-sex marriage, the post has received a considerable number of views during the last three days. Most of these visits are coming from Facebook conversations to which I do not have access, but I imagine that the transcript is being used in debates by members of the Church of Jesus Christ of Latter-day Saints reacting to the Supreme Court's action.
I think it is clear from the parts that I have transcribed that Elder Christofferson did NOT say that there is nothing wrong with members of the church supporting same-sex marriage. He said that expressing personal support for same-sex marriage in social media would not be cause for discipline (as long as it wasn't part of an organized effort to undermine the church).
At the same time, he was clear that the doctrine of the church will not change regarding the law of chastity and the sinfulness of homosexual actions and behaviors (which an official statement by the church in reaction to the ruling reaffirms). And he implied that the church would try use persuasion to try to teach members that their support of same-sex marriage is contrary to God's will.
In other words, unless I have misunderstood his words, members who support same-sex marriage are in error. They are rejecting the doctrines of the church and the teachings of the prophets. But unless they make a concerted, organized effort to damage the church or undermine its teachings, the church will tolerate their erroneous views in the hope that over time they will be persuaded to repent.
It is also important to recognize that the words of a single apostle in an extemporaneous interview carry less weight than official communications and policies established by the First Presidency and Twelve Apostles in unanimous agreement. So Elder Chistofferson's words should be given requisite weight, but not treated as necessarily definitive.