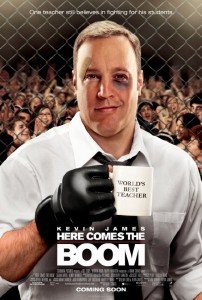 Recently our family rented the movie Here Comes the Boom, starring Kevin James, Henry Winkler, and Salma Hayek. James plays a high school biology teacher who gets involved with mixed-martial arts (MMA) fighting to try to raise enough money to prevent the budget-strapped school from closing down the music program.
This isn't a movie review, but I did want to mention something about the film that I liked. While the movie was not about religion, the characters were unambiguously religious. 
Here Comes the Boom has a scene in which a character quotes the bible without irony and without fanfare. While complimenting the resolve exhibited by the character played by Kevin James, he refers to the story of Jacob's wrestle with God in Genesis as a perfectly normal part of his everyday idiom.
Later, just before the big fight at film's climax, the main characters, including James and Winkler, pause to grasp hands and quietly offer a prayer before James enters the arena. The scene is portrayed in the most natural way. They weren't trying to impress anyone. There was no irony or comedy. And it wasn't over emphasized and preachy. It was not laden with gravitas and pregnant with meaning. It wasn't awkward or controversial. It just was.
Religious belief, prayer, and scripture were presented as normal, unexceptional parts of real life for respectable people. So normal that they needed no apology, justification, or emphasis.
And I really loved that.
It also made me sad.  It made me sad because the understated assumption of religious belief portrayed in the film was so rare in most films and on television that it really stuck out to me in contrast. Being religious should be unexceptional. The fact that it is exceptional in our entertainment media is a problem.
Too often in modern Hollywood movies, religion is portrayed negatively or unseriously. Prayer has long been played for laughs. And scripture, if it is used at all, is quoted ironically or for juxtaposition.
Kevin James is a devout Catholic who has talked about glorifying God in all he does. I already liked him as an actor and comedian.  But now I am a fan. We need to support him in that endeavor.
We need more unabashed, yet understated religion in our entertainment. Religion is normal and it should be displayed that way. I encourage you to support this kind of depiction by renting the film, buying it, and recommending it to others. Send a message by what you recommend and how you spend your money.
Here Comes the Boom is rated PG by the MPAA.