We don't belong to the "leave'm crying" nor the "sneak out when they aren't paying attention" schools of parenting.  As a result, I spend a lot of time in the nursery with my two-year-old during church on Sunday, even though I am not currently assigned to work in the nursery.  A few years ago, when our older children were this age, my wife and I were called as the nursery leaders.  My parents never did successfully get me to go to nursery as a child, but I have certainly made up for it as an adult.
When my grandfather passed away last year our family held a viewing at the local meetinghouse.  Among the cousins, some of the young parents and their children ended up in the nursery room.  As the kids played, one of the dolls caught my attention.  The scowling face glared fiercely with a look much too mature for its little body.  It was the ugliest doll I had ever seen!  I wish that I had a picture of it.
Let's face it, there are some bizarre and scary old toys out there, lurking in LDS nursery closets and cupboards.
Just last Sunday I discovered this crazy thing in our ward nursery: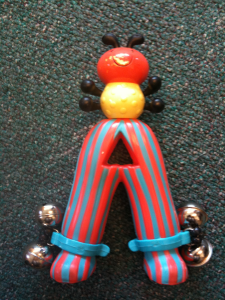 It's Charles Dodgson's rendition of doctor Moreau's combination of the letter 'A' with Mr. Happy Bug, wearing the circus tent from Something Wicked This Way Comes and some fashionable blue leg irons welded to some Christmas bells!  All I can say is "Brilliant use of negative space." (Points to anyone who can tell me why it is a brilliant use of negative space).  Now all we need to do is melt some clocks over it.  I wonder if it is part of a series?
Have you run into any scary or weird toys in your church nursery?  I'm sure you have.  So here is an assignment for this Sunday.  Take your camera or your camera phone to nursery and take a picture of the craziest, ugliest, scariest toy you find.  Then email them to toys at sixteensmallstones dot org along with your city, state, and any comments.  The best ones (or worst ones!) will be added as updates to this post.